Featured Content
Cost of Nuclear Power in Ontario
May 11, 2016
May 2016
The Ontario Energy Board (OEB) has released its latest report which tells customers how much their electricity costs.
What you pay is in part related to where you get your electricity from.  In Ontario, the diversified energy mix is made up of nuclear, hydro, fossil fuels, solar and wind.  Each source has a different cost when it comes to producing energy.  That applies to all energy sources.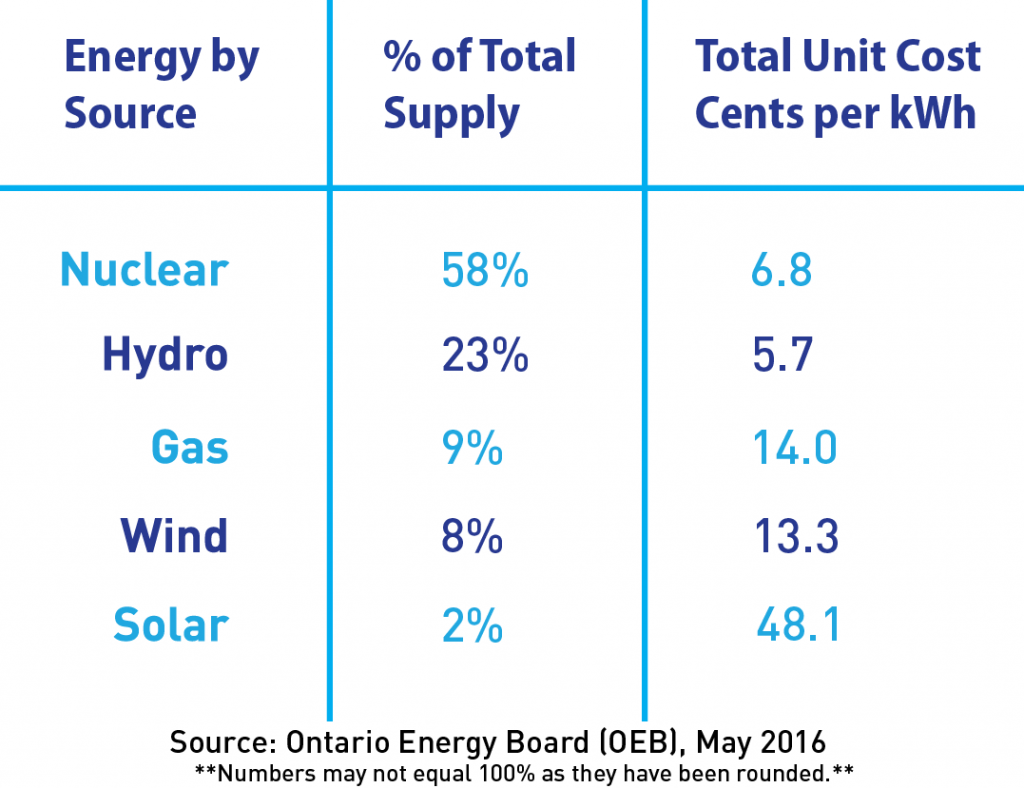 The OEB report confirms that low-carbon nuclear is low-cost to ratepayers.  Electricity generated by nuclear power is almost 7 times most cost-effective than solar.
In recent years, nuclear power has supplied Ontarians with almost 60% of their electricity. The Ontario government's commitment to refurbish reactors at both Darlington and Bruce shows the province believes nuclear energy – with its minimal greenhouse gas emissions and small land footprint – is not only good for the environment, but also good for ratepayers.
According to Ontario Power Generation (OPG), investing in nuclear means investing in affordable power for the future.
"The price of power from the refurbished station is expected to be between 7 and 8 cents per kilowatt hour," according to OPG.  The refurbishment assures another 25 to 30 years of operation.
Links
To see how much of Ontario's clean electricity is produced by the province's nuclear reactors – in real time – visit www.live.gridwatch.ca
To see how changes to the electricity supply powering your home affects your cost of electricity and the quantity of CO2 emissions produced – try the Energy Calculator at www.brucepower.com  ("How is your home powered?")