Public Newsletter
For the Health of Your Lungs
January 4, 2016
According to the National Blood Clot Alliance, once every six minutes, someone dies from a blood clot and blood clots lead as the number one killer of new mothers during and after childbirth.
According to Massachusetts General Hospital, a pulmonary embolism or PE is a blood clot that develops in the blood vessels elsewhere in the body and travels to an artery of the lung. A PE is a blood clot once it has lodged itself in the lung and formed a blockage of the artery.
While there are numerous risk factors for developing a PE, the most common include: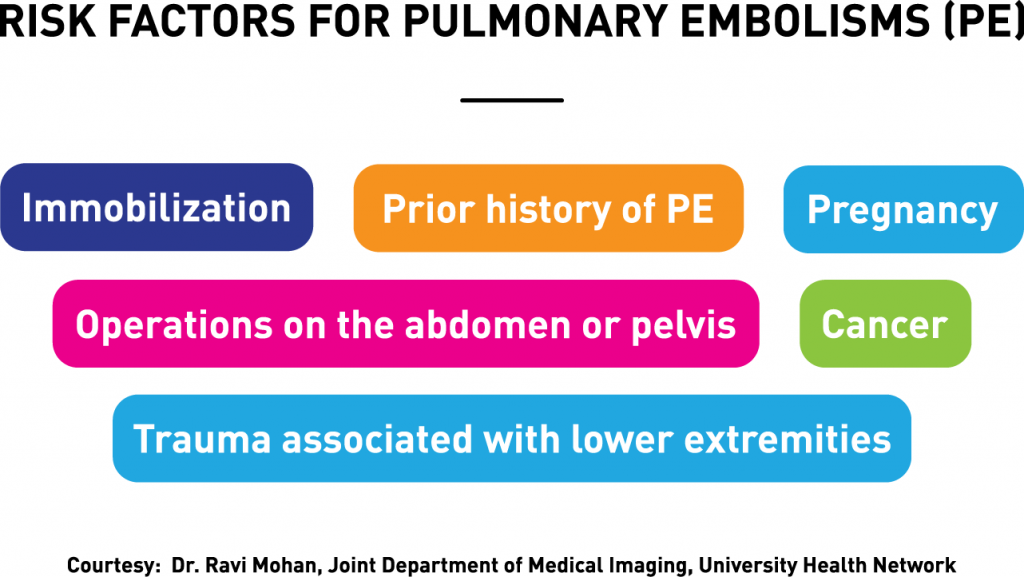 "Pregnancy puts a woman at increased risk of pulmonary embolism, so careful evaluation of pregnant patient is vital when they present with symptoms of chest pain and shortness of breath," says Dr. Ravi Mohan, a radiologist and nuclear medicine specialist with the Joint Department of Medical Imaging for the University Health Network.
Left untreated mortality rates from pulmonary embolisms can be as high as 25 per cent. However, with the proper therapy, the rate of mortality decreases by nearly two-thirds to between two and eight per cent
One way to detect a potential clot in the body is known as a VQ or ventilation/perfusion scan. As Dr. Mohan points out, "nuclear medicine works from the inside out."
In the case of a VQ scan two agents are given to the patient, one that looks at the airways (technegas) and the other to look at the blood vessels (Technetium 99m particles).  As the agents, decay they give off gamma rays.  These rays are in turn picked up by cameras, allowing physicians to detect abnormalities in the lungs.
These abnormalities are often seen as a decrease in the amount of perfusion or blood flow to a particular area in the patient while the ventilation or air flow will appear normal. It is this difference between the two parts of the tests that allows doctors to discover a blockage in the lung and thereby treat it.
Some of the symptoms may include.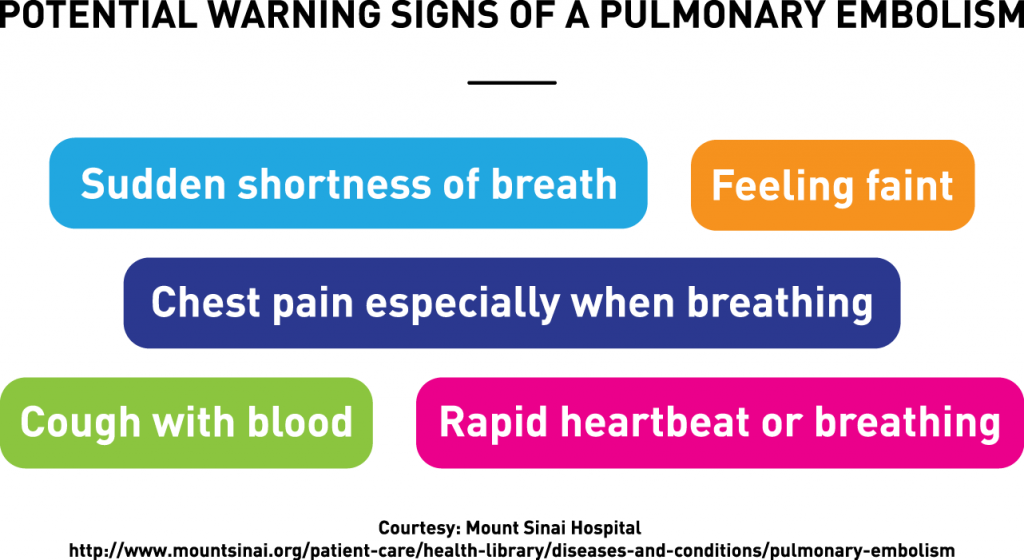 It is important to point out that not all clots will present with symptoms in the patients regardless of size or location of the blood clot.  "Patients may present with hypotension and shock in larger areas where as in patients with smaller blockages they have relatively few symptoms or no symptoms at all," says Dr. Mohan
Treating pulmonary embolisms will vary from patient to patient but may include surgery, medications and oxygen therapy.