Jobs
Jobs along the whole supply chain
September 10, 2015
While there are a lot of jobs in Canada's nuclear power plants, many more may be found across the country, in the businesses that make nuclear power possible.
The industry is labour-intensive because uranium must be mined and heavily processed before it can be used.
All of Canada's uranium mining is in Saskatchewan, which has the world's highest-grade uranium deposits. A steady source of employment for 10,000 workers, because world demand for uranium is growing.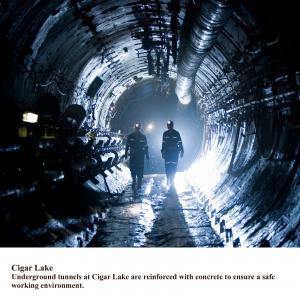 Susan Daigneault has experienced this first-hand, having worked in uranium mines since the mid-1990s.  Currently working for Cameco at the McArthur River Mine, just passing a milestone of 17 years, she has completed her electrical apprenticeship, holds a Saskatchewan hoisting ticket. She's also an active member with the United Steelworkers union, and occupational health and safety representative.
Electrical systems are essential to the mine – from pumps, ventilation, mining, processing, emergency generators and lighting systems to everyday general tasks.  "If you walk underground at McArthur, it's like working in a small city," she says. "That's thanks to the electricians." And those systems are always changing: "As mining develops and we move forward, there are always going to be challenges. The safety culture at the mine is deeply ingrained in employees," she says.
Women are still a minority in the mines, but First Nations people aren't. Of Métis ancestry herself, she has noticed an increase in the aboriginal workforce. "Part of a land-lease agreement with Cameco is to maintain a certain percentage of hiring from the north." As people retire, she would like to see more apprenticeships to bring the next generation in.
Still, two decades into her career in the mines, she's happy with the work. "It's challenging and never boring," she says. "And Saskatchewan is now the province to be in. We've had hard times, but there is a career to be had in mining for sure."
Once it's mined, uranium must be processed into fuel. Charles Purrier, an operator at GE Hitachi's fuel plant in Toronto, has devoted 14 years to this.
Originally from Jamaica, Mr. Purrier worked in Ontario's automotive sector, and then found work operating a uranium-powder press at GE Hitachi. Over time, he's added to his skills, and now rotates around jobs at the plant. As an active member of Unifor, he is also a union steward, which often means speaking up for workers' interests, in safety for example. "Overall, I believe it's a safe job, but there's nothing wrong with making it safer," he says.
The GE Hitachi plant is right in the middle of an urban area, so safety is important to getting along with the community. Though there was opposition a few years back, says Mr. Purrier, relations have improved. "People felt that they weren't informed. The company held town-hall meetings, and community people wanted some health tests done. Since then, people have been more calm and trusting."
Asked if he ever expected to work in the nuclear industry, he says, "It was not in my wildest dreams. I like the job, and working within the industry. It's stable, to anyone who wants to get into it."