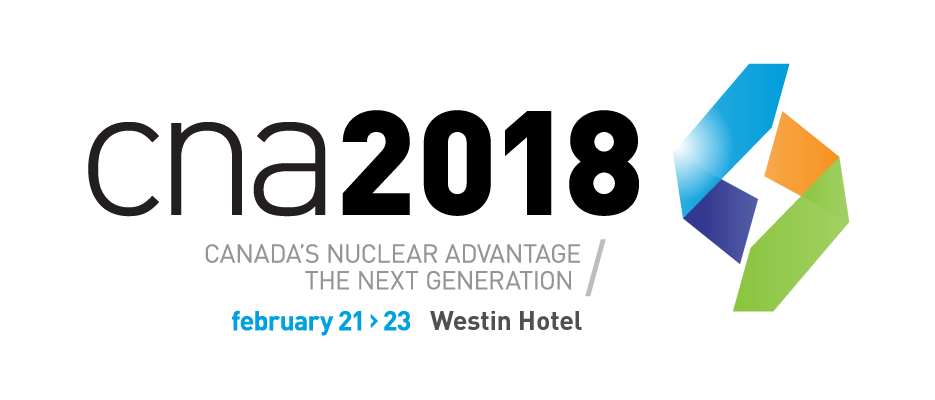 Program
Stay tuned for CNA2018 programming.
Wednesday, February 21, 2018
12:00 – 20:30 Conference and Trade Show Registration

Registration will be open at the top of the fourth floor escalator at the Ottawa Westin. Here you will pick up your name badge, which is required for entry and your conference kit including all printed information and CNA products.
13:00 – 16:00 Regulatory Affairs Workshop

In late 2016, the federal government launched a comprehensive review of several elements of its environmental and regulatory framework including the Canadian Environmental Assessment Act, the Fisheries Act and the navigable Waters Act. The CNA2018 regulatory affairs workshop will provide an opportunity for attendees to hear firsthand about the proposed changes and the potential impact on our industry. We will also hear from the CNSC regulatory affairs team.
13:00 – 16:00 Public Affairs Workshop

13:30 – 15:30 Starting your nuclear career (Student Event)

This career information seminar is open to student delegates, and will feature recruitment professionals and a resume review from some of Canada's leading nuclear companies.
15:30 – 20:30 Opening of CNA Trade Show Area and Career Fair

At 3:30PM, the trade show will officially be open, and we invite delegates to start visiting our valued exhibitors right away! As in previous years, we will be hosting a prize draw based on a puzzle contest which you will receive at registration. Don't waste your time, the draw takes place Thursday night at 6:15PM sharp!
18:00 – 20:30 Welcome Reception

Consider this the official opening ceremony of the 2018 CNA Conference and Trade Show. The welcome reception is the first major networking event. Make sure to come hungry!
Thursday, February 22, 2018
Friday, February 23, 2018