Public Newsletter
Neutron Beams & Airplane Safety
May 1, 2016
According to Statistics Canada, there were 5.4 million take-offs and landings at Canada's ninety-two airports in 2014.
Everything is made of materials, even people. And those materials can be examined through non-destructive testing (NDT). It is exactly what it sounds like, a method to test materials without breaking or destroying them.
"In the past, they'd make the part bigger. That works and it works if it's on the ground, but with an airplane, when you have to move through the air you are sensitive to weight," according to Michael Gharghouri, a research scientist at CNL with a PhD in materials engineering. "So you really want to design just what you need. You can only do it if you understand the material very well."
When it comes to flying, NDT is an effective method that can pick up potential problems long before a plane takes off.
That's where Nray Services comes in. This small company has a big job. For the last twenty years, its shop in Dundas, Ontario has been testing engine turbine blades for 95% of the entire aerospace industry using a neutron beam.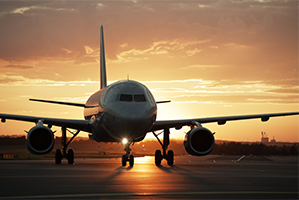 There are four phases to jet propulsion according to Rankin MacGillivray, President of Nray: Suck, squeeze, bang and blow.
Intake is the suck that draws air into the jet engine.
Then the air is squeezed by compression within the aircraft's engine.
The bang occurs when the fuel and the spark are added.
The blow pushes air out of the engine at the rear, and pushes the aircraft forward.
It is these small rings of blades, approximately four or five inches high, inside the engine that Nray tests.
"The blades are operating at temperatures higher than their melting points," according to MacGillivray.
To compensate for the high temperatures, the blades have hollow passages that allow cool air to circulate inside them. Within this ceramic core, any blockage greater than a ¼ millimeter could prevent cooling and cause the blade to break up in flight. So accuracy matters very much.
"Ceramic is a light material compared to the blade material. It's fairly heavy and if you look at an x-ray for example it can penetrate but it can't see behind it", says MacGillivray. "Neutron rays can see light materials behind heavy materials."
Neutron beams don't just provide highly accurate measurements. They also provide an early warning system.
"Very early on when they are designing so they can get information up front to do an informed design." Gharghouri goes onto say,"Then at the other end when problems crop up that are unexpected so that they can tell them the problem and where it is without actually destroying the part."