Innovation
Nuclear Imaging Revolutionizes Breast Cancer Research
February 2015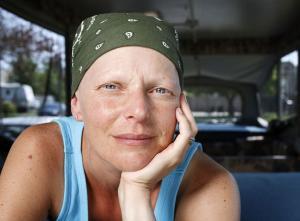 Innovative nuclear research may soon be able to tell in advance whether breast-cancer patients require specific hormone treatments – a breakthrough that could save a lot of time and money.
Scientists at the University of Saskatchewan, supported by the Sylvia Fedoruk Canadian Centre for Nuclear Innovation  is exploring whether radiopharmaceuticals can identify cancers associated with HER2, a protein that promotes cancer-cell growth.
HER2-positive breast cancers are less responsive than other cancer types to hormone treatment. Drugs like trastuzumab (Herceptin) and  lapatinib (Tykerb) are effective but costly. Other treatments get used first – and may not work.
The Fedoruk research, if successful, would help doctors to identify HER2-positive cancer more readily and to prescribe effective treatment – saving time, money and lives.
Dr. Humphrey Fonge, an adjunct professor in the Department of Medical Imaging at the University of Saskatchewan, is leading the research that will better identify the protein, or biomarkers, on therapy-resistant cells, like HER2.
"When a patient goes to a clinic, they would get injected with a radiopharmaceutical that would more accurately tell which protein is responsible for that cancer and that would allow the physician to more accurately determine treatment to a particular drug rather than a one-size-fits-all method," he said.
The research is still in the animal-testing phase. Humphrey estimates it will take a "few years" before it goes to Health Canada for approval.
"It's going to be revolutionary. It will save a lot of costs. If a patient goes to a clinic and is treated with a $70,000 drug and they don't respond to drug, that's a loss of $70,000."
Not only will the imaging agent help to determine which drug therapy should be used, but it will also be able to monitor how patients respond to that therapy.
Neil Alexander, executive director of the Saskatoon-based Fedoruk Centre, said nuclear imaging is helping in cancer research as well in the fields of heart and brain research.
He calls it an area of expertise the Fedoruk Centre is developing through the Saskatchewan Centre for Cyclotron Sciences, which is leading to "great breakthroughs around the world."
"The developments that are taking place in nuclear imaging will mean that our children will not be as terrified of diseases like cancer as we were because we will know so much more about them," he said.
"Our ability to image them will give us that much more data both about the processes that cause cancer and how we can disrupt them and the ways that we can then treat them in order to minimize their consequences."
Alexander said a large part of modern life would not be possible but for the development of innovative nuclear technology.
"The industry is hugely broad based and the innovations have led to the foundations of modern society," he said.