Innovation
CNL Invests in Hydrogen to Power the Future
February 2015
Imagine a world where driving to work is no more harmful to the environment than walking or cycling. Where the burning of fossil fuels is a distant memory of a bygone era, long before advances in alternative energy sources for transportation were developed and commercially viable.
The promising science behind hydrogen as an energy source to power our everyday lives is a prospect that has captured the imagination of Canadian Nuclear Laboratories (CNL) researchers, and prompted CNL to open a new lab at its site in Chalk River, Ontario.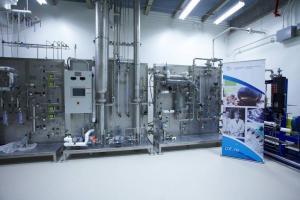 CNL's advantage in exploring future hydrogen applications stems from its six decades of experience with hydrogen isotopes such as deuterium and tritium. (Deuterium is the heavy hydrogen in the water used to cool fissioning uranium in CANDU nuclear reactors. It's exactly like the regular hydrogen that bonds with oxygen to produce water, except it has a neutron – the extra weight that makes the water "heavy." Likewise, radioactive tritium has two neutrons.)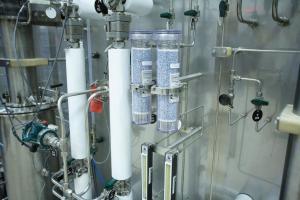 CNL's depth of experience is now being applied to exploring large-scale production of hydrogen using technology that can be integrated with nuclear energy. Essentially, this technology would use surplus electricity – either nuclear or renewable – as the clean form of energy needed to produce this resource.
Where could it lead? The "hydrogen economy," perhaps.  Hydrogen is a low-carbon energy source that someday could replace gasoline for transportation or natural gas for heating. Hydrogen is attractive because the only by-product from its use is water – the regular kind. The bottom line: no harmful emissions to the environment whatsoever.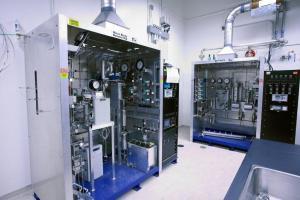 In opening his company's $55 million lab in January 2015, CNL President & CEO Dr. Robert Walker said, "This new laboratory will enable state-of-the-art research to ensure a clean and healthy environment for Canadians through the development and use of clean energy technologies."
"The work that will be carried out within these walls builds on CNL's global leadership position in hydrogen technologies. It enables us to develop safe and secure options for Canada's future energy needs. And it gives us the foundation to leverage and direct our capabilities into other industry sectors and international markets."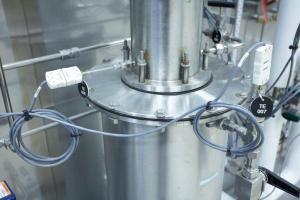 The new lab's equipment comes from other innovative Canadian nuclear companies such as Kinectrics, TurnKey Modular Systems, Tyne Engineering and Angstrom Engineering. Each piece of equipment enables an experimental process to measure the performance of a chemical or physical transformation involving hydrogen. For example, one of the rigs measures the rate at which hydrogen reacts with oxygen at various conditions using different catalytic materials.
CNL's hydrogen lab is an excellent example of Canadian strength in science and technology, and a product of Canada's work to explore civilian applications for nuclear technology.